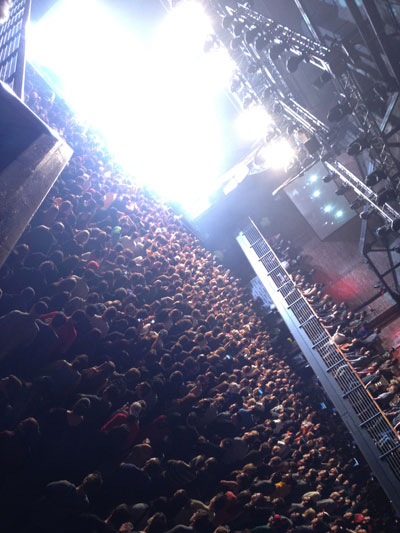 Mike Sapone is an American producer, audio engineer, and mixer whose credits include producing records for bands such as Brand New,Taking Back Sunday, O'Brother, Straylight Run, Crime in Stereo, Mansions and Public Enemy.
2015 brought Sapone his first No. 1 on Billboard's Top Rock Albums and Alternative Albums chart simultaneously with Mayday Parade's "Black Lines".
Sapone earned his second Top 10 album on the Billboard 200 with Taking Back Sunday's "Happiness Is." In 2009 Brand New's "Daisy" debuted at number 6 on the Billboard 200 and was featured on the Best Albums Of 2009 lists from SPIN, Kerrang! and Rock Sound magazines. Sapone also produced Brand New's critically acclaimed "The Devil And God Are Raging Inside Me," which was included in NME's Top 100 Greatest Albums Of The Decade and received a 5 out of 5-star review entitled "America finally gets their own Radiohead" from Alternative Press magazine.
Other productions include:
TV show soundtracks: Smallville, Sons Of Anarchy, Stargate Universe, Studio 60 on the Sunset Strip, Friday night lights, Access Hollywood, Wife Swap, Girls Behaving Badly , E! True Hollywood Story , and The ESPN ESPY awards.
Video Games: Guitar Hero 5, Burnout Paradise, Burnout Dominator, Tony Hawk's American Wasteland, 2006 FIFA World Cup and NHL 2004.
Sapone has also worked, produced, engineered and mixed for the following artists, among others:
Bad Books
Brand New
Crime In Stereo
Cubic Zirconia
Daryl Palumbo (Glassjaw)
David 'Skully' Sullivan Kaplan (Razorlight)
Denver Dalley (Statistics, Desaparecidos)
Envy On The Coast
Every Avenue
Good Old War
Hit the Lights
Intramural
I Am The Avalanche
Jaret Reddick (Bowling For Soup)
Jeff DaRosa (The Exit, Dropkick Murphys)
John Nolan
Kevin Devine
KRS-One

Lights Resolve
Mansions
Matt Morris
Mc Lars
Men Women & Children
Mike Kennedy (Vision Of Disorder)
Moving Mountains
Nightmare Of You
O'BROTHER
Ocean Is Theory
Public Enemy
Robbers
Robyn
Sainthood Reps
Silent Majority
Straylight Run
The Dear Hunter
The Movielife
The Narrative
Taking Back Sunday
The Xcerts